Guide des tailles FEMME
---
Mesurer votre body pour que votre vêtement ait le meilleur tomber

A-Tour de poitrine
Placer le mètre sur les pointes des seins, passez-le sous les bras et remontez légèrement dans le dos.
With arms at sides, place tape measure under your arms and run it around the fullest part of the bustline and across the shoulder blades.
B-Tour de taille
Mesurez la partie la plus creusée de la taille, à l'endroit où vous avez fixé le ruban de taille
Find the natural crease of your waist by bending to one side. Run tape measure around your natural waistline, keeping one finger between the tape and your body for a comfortable fit.
C- Tour de bassin
Posez le ruban à l'horizontal sur le point le plus fort des fesses
With feet together, run tape measure around the fullest part of your hips/seat, about 7 to 8 inches below your waistline.
D- Hauteur de jambes
De l'entrejambe à la cheville
For full-length pants, run tape measure along the inside of your leg, from just below the crotch to about 1 inch below the ankle.
---
Tableau de mesure Satin
| SIZE | TOUR DE POITRINE | TOUR DE TAILLE | TOUR DE BASSIN |
| --- | --- | --- | --- |
| XS | 82 | 62 | 90 |
| S | 86 | 66 | 94 |
| M | 90 | 70 | 98 |
| L | 96 | 80 | 106 |
| XL | 102 | 92 | 116 |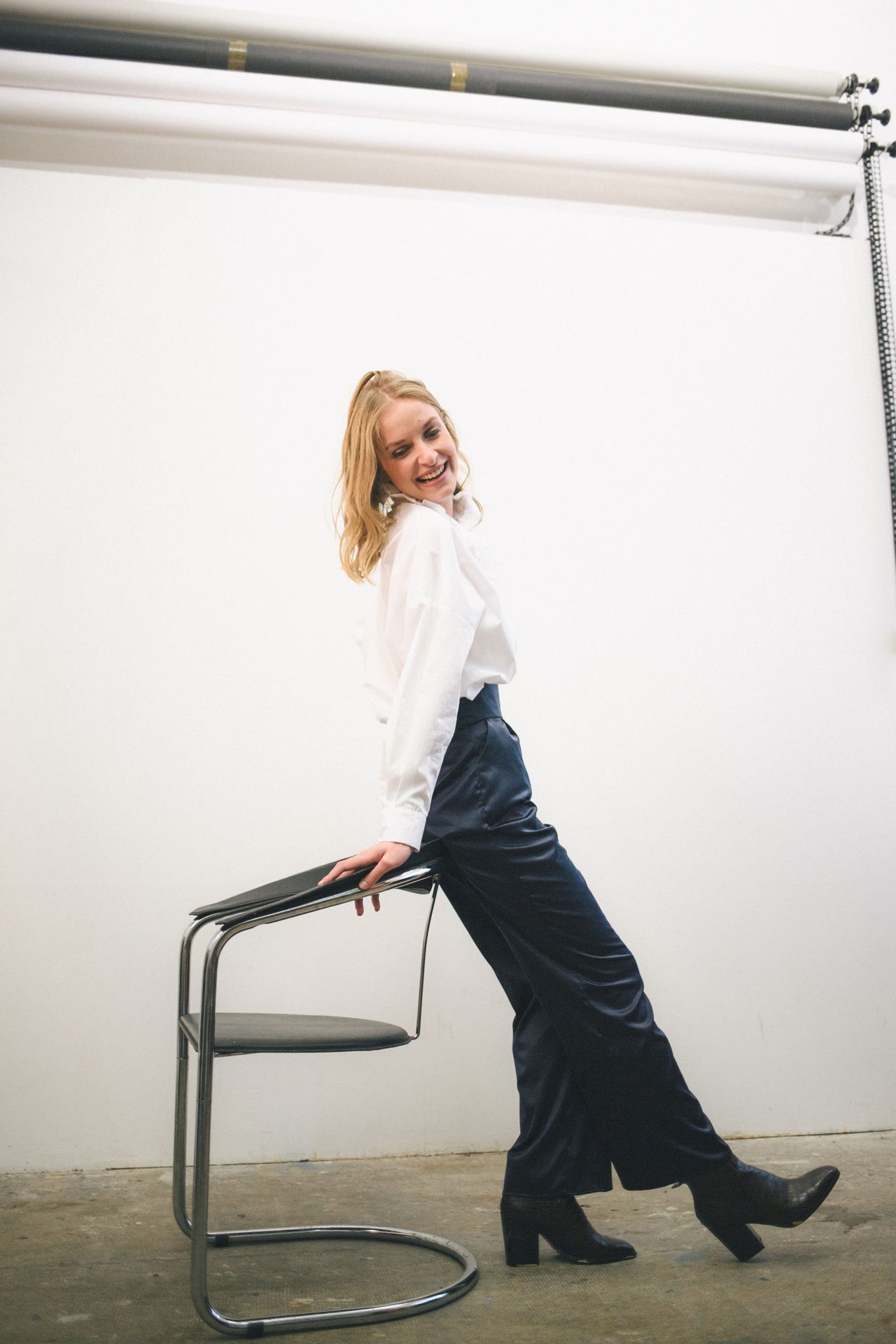 Pant Verlaine
110€
Le pantalon Verlaine est une première chez Satin mais on l'a déjà adopté !
La ceinture est haute de huit centimètres pour un parfait maintient du galbe et le pantalon possède aussi des poches très pratiques et discrètes.
On adore la couleur marine car elle est très simple à associer !
Pant Verlaine
Tous nos produits sont fabriqués dans notre atelier Lyonnais.
La mannequin mesure 1m75 et porte une taille S.
Les matières sont soigneusement sélectionnées par nos soins chez notre grossiste lyonnais qui se procure les tissus en Europe